Amada Fiber Laser
LPE have purchased an Amada Fiber laser cutting machine that cuts material at up to 50m/minute and is capable of cutting copper, brass, titanium and other material that were previously unable to be cut by CO2 lasers. This machine is supported by it's own material load and part unload system, leading to lights out production. The following links will give you an insight into the new machine.
http://www.youtube.com/watch?v=qnryU3RDHug
http://www.youtube.com/watch?v=dskkRoMRbms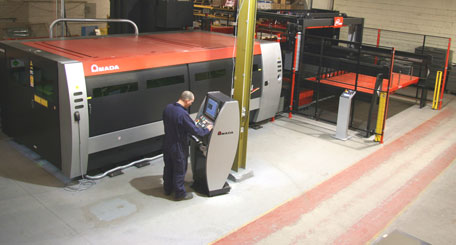 Our machine has the high speed shuttle table and the compact loading/unloading system.
The machine will cut up to
Mild steel – 15mm
Galv – 3mm (material only goes up to 3mm)
Stainless steel – 10mm
Aluminium – 8mm
Brass – 5mm
Copper – 4mm
Titanium – 5mm
Please contact any of the team who will be delighted to let you understand the opportunity this machine can give your business.